M-Filter Group is one of the largest Filter companies in  northern Europe. Oy M-Filter Ab  has been manufacturing filters  since 1962, today there are 5 factories specialised in different areas of filtration. The headquarters is in Finland.
Versatility, knowledge, commitment
A very wide range of production possibilities
Five separate factories have over 20.000 m2 production space. Depending on the factory, we can make small series as well as large volumes for world wide distribution, always with the highest OEM-standards.
Ownership and company policies
Company has a long history of family ownership. Our history and Scandinavian values give a solid background to all of our c. 200 employees. The owner's active role in the company leadership strongly supports these values.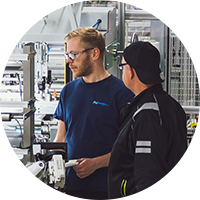 Our strength is the ability to serve a variety of companies
Our engineering knowledge combined with a large sortiment of different production lines give us a unique advantage to serve different customers from tractor manufacturers to various types of HVAC customers. 
M-Filter specialises in being a supplier of OE filters for international equipment manufacturers. M-Filter is a designated OEM partner for brands and the manufacturing industry.

Filterpak specialises in the manufacture of ventilation filters. Filterpak also offers the NeSu face mask range, made in Finland.
PL-Filter focuses on ventilation bag filters. PL-Filter also guarantees fast deliveries for bag filters of different sizes. The company's production is located in Vimpeli, Finland.